Level up your gaming station with Eureka Ergonomic's scratch-resistant and nearly indestructible glass desks. Discover the entire collection below! https://eurekaergonomic.com/glass-desks/ 
According to recent statistics, there are over 3.24 billion gamers across the globe. And yet, now two of them enjoy the same gaming setup or gaming experience. At Eureka Ergonomic, our designers understand this and aim to create standing, visually impressive, and highly ergonomic glass desks to meet the needs of every gamer.  
In our China-based manufacturing plants, our hand-picked team of furniture designers, gaming experts, specialized engineers, and materials specialists come together to create one-of-a-kind gaming desks that incorporate the next-generation, sound-reactive RGB lighting technology.  
If you are in the market for a cutting-edge desk to elevate your entire gaming setup, look no further than one of the scratch-, heat-, water-, and impact-resistant desks in our collection. Learn more about the different models below.  
Glass Gaming Desk GTG-L60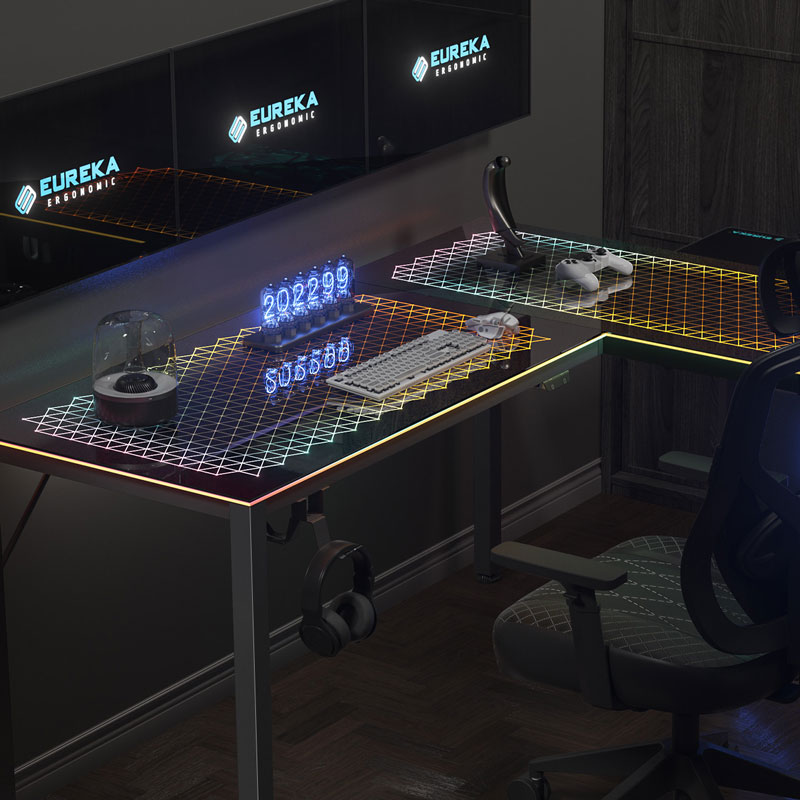 If you are looking to transform an entire room or corner into a dedicated gaming station, this sectional, L-shaped gaming glass desk is the perfect one for your needs. The GTG-L60 L-shaped glass desk is integrated with the most advanced RGB LED light technologies. The red, blue, and green LEDs create a matrix of color that reacts with the sound of your game or favorite music, thus creating a fully-immersive experience for the gamer.  
Beyond its visually-impressive effects, this glass gaming desk is also incredibly functional and completed with smart accessories including a rotating cup holder and a cable management tray.  
What's more, the GTG-L60 is both spacious and compact, designed to fit in any room corner, and ideal to create extra leg and storage room for you and anyone looking to enjoy a gaming session with you!
Gaming Glass Desk GTG 43″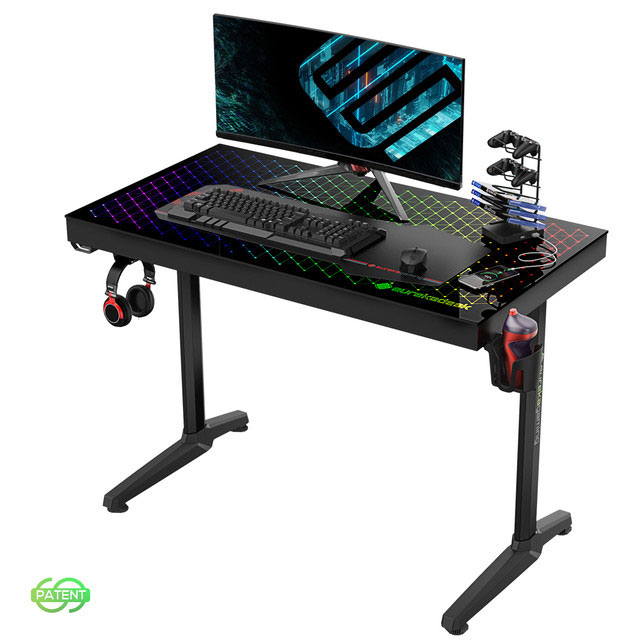 Unfortunately, not all gamers have a whole room to dedicate to their passion. And, if you only have a corner of your bedroom or living room to dedicate to your gaming setup, you might be struggling to find the right desk for your needs.  
That is why here at Eureka Ergonomic have designed a compact but spacious desk that can be set up anywhere and match any interior design style. When the RGB lights are activated, you can enjoy a 360-degree gaming experience. But, when you are not playing, the black, sleek desk can be a stylish piece of furniture elevating your home's style and look.  
While only 43'' in length, this desk can hold up to 330 lbs and boasts over 200 light patterns, which can be controlled through a Bluetooth-enabled app.  
Alongside plenty of gaming space, the GTG 43'' offers an ergonomic, comfortable glass surface with all the comforts you might need during your gaming sessions, including cup holders and cable management tools.  
Standing Glass Desk GTG 47″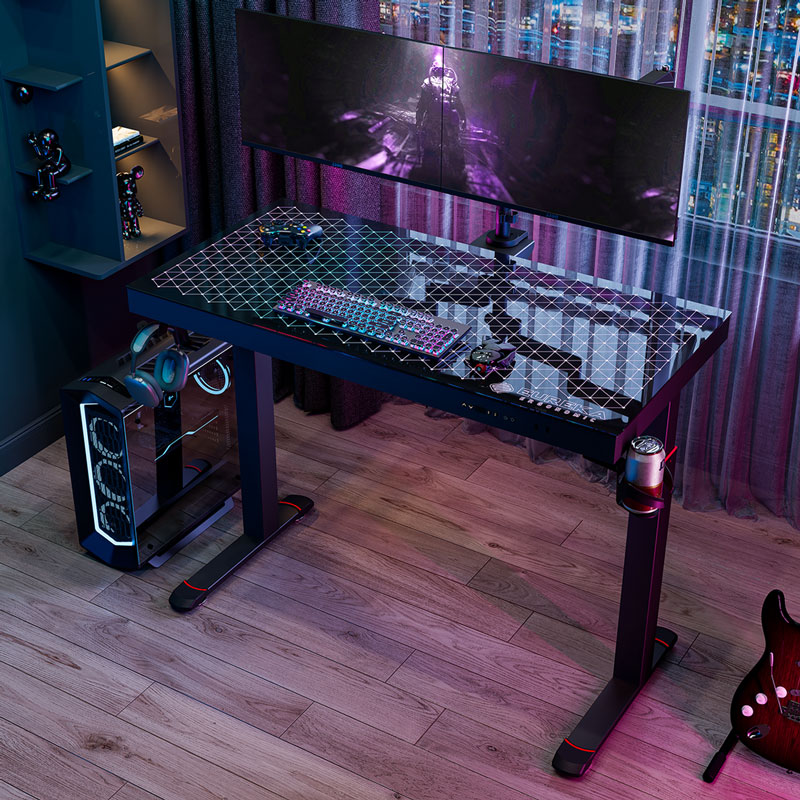 If you are looking for an easily adjustable gaming desk that is both spacious and versatile, the standing glass desk GTG 47'' might be the best option for your needs. Designed and manufactured by Eureka Ergonomics, this desk is a great alternative for both experienced gamers and beginners looking for an ergonomic, comfortable, and visually appealing gaming station.  
This desk can be adjusted in height, making it ideal for those gamers who prefer to switch up gaming positions or are getting reading for long sessions. What's more, the GTG 47'' glass desk offers multiple unique details, including a cup holder, integrated phone charger or USB port, and headset holder.  
When playing your favorite video or computer games, you'll be able to enjoy over 200 kaleidoscopic patterns created by the RGB LED lights under the shatter-proof glass, and even choose pre-determined settings such as "Breathe" and "Ripple".  
During the day – or when you are not playing – this standing desk can quickly become a professional home office or study desk, or turn into the perfect station for creating content for your YouTube or Instagram channel.  
Standing Glass Gaming Desk GTG-EVO 55″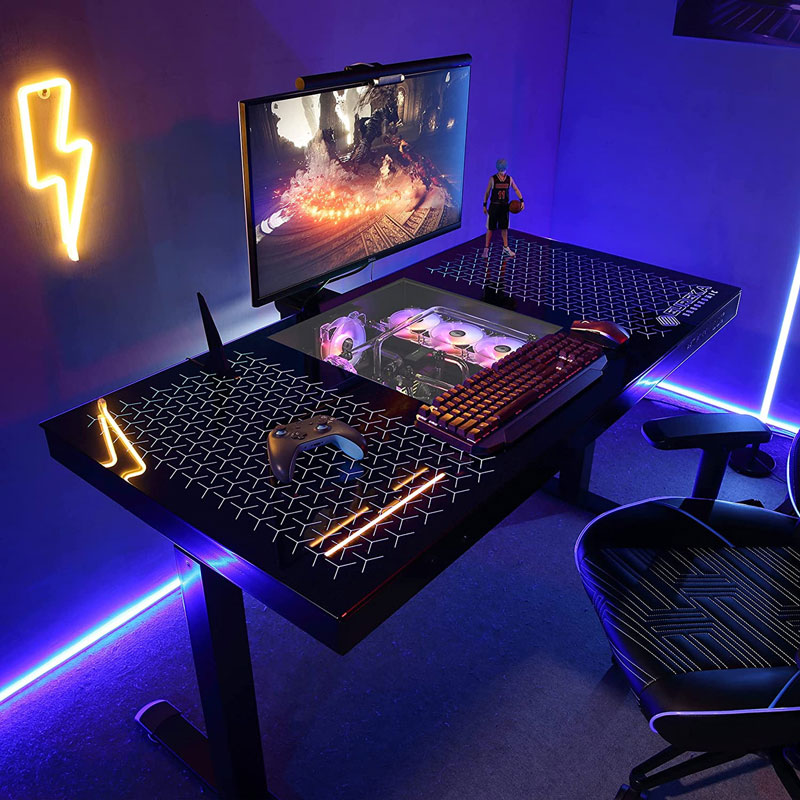 If you are looking for a more professional gaming station, the Standing Glass Gaming Desk GTG-EVO 55'' is designed to take your gaming experience to the next level. In terms of comfort and ergonomics, the desk can be easily and silently adjusted in height and it supports a wide range of accessories, including cable ties, monitor arm mounting bracket, cupholders, headset hook, and multi-space controller stand.  
But the real magic of this desk is its dazzling look! With hundreds of remote-controlled, sound-activated LED lights located underneath the ultra-strong tempered glass, this desk is created to deliver a fully-immersive and exciting experience to any gamer.  
The real hidden gem of this cutting-edge standing desk? The integrated mid-tower computer case! Setting up your computer at the center of your desk allows you to show off your professional hardware, save space, and protect your devices from impact, scratches, dust, or debris – a real must-have for the most enthusiast gamer!