Employing the vast computational capacities of the rented GPU server isn't just for gamers and miners. If you have even the slightest interest in exploring deep learning, 3D graphic modeling, citizen science, or building business solutions, it's also ideal for you! Below are the steps you need to take in order to rent GPU power for your own convenience and fun.
GPU server rental – how does this solution work?
In recent years, companies like Hashmarket made the dream of many a reality. In other words, regular Joes & Janes like you and me can now lease GPU and make money, or employ a GPU server rental and use its capabilities in our projects.
GPU rental is a service that allows users to rent a powerful graphics processing unit (GPU) on a remote server maintained by a tech company. They lease GPU, which means you can now perform computationally intensive tasks such as machine learning, artificial intelligence, data mining, or video rendering whenever you please.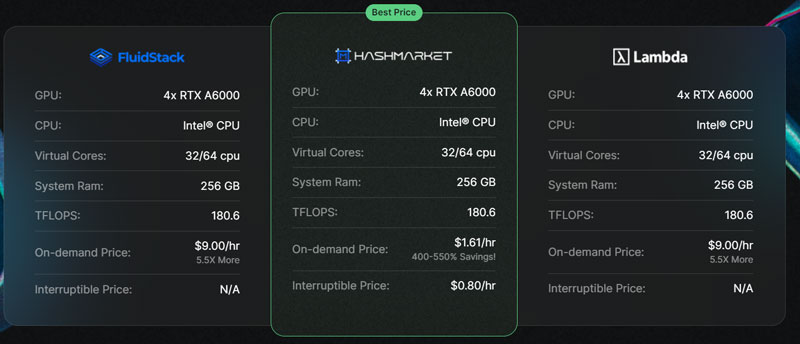 This service is often offered by huge cloud computing providers, but there are distinct advantages of GPU rental provided by small, dedicated businesses, that can concentrate better on delivering the best service to each client.
The process of renting a GPU is extremely simple and straightforward. You won't be tasked with any of the complex operations you would have to perform while setting up your own GPU server. Not to mention the cost – one of the main advantages of GPU server rental is that is unbelievably affordable. Let's go through each of the steps of the process in order.
Step 1: Choose a GPU rental provider
The first step is to choose a cloud computing provider that offers GPU rental services. As we have mentioned above, the market share the company has shouldn't be your only guide here. Customer service and the ability and willingness to address your concerns will be much more important in the long run. Each provider has its own pricing and service offerings, so it is important to make note of those and choose the most suitable solution for yourself.
Step 2: Sign up, review the options and choose the instance
Once you have chosen a provider, you will need to select a GPU instance. This is the particular GPU server that will be tasked with the operations you require of it. Your personal dashboard will probably present you with a range of GPU instances with varying levels of performance and memory. The right instance for you? The one that best fits your needs and budget.
Step 3: Set up the instance
After selecting the instance, you will need to set it up. This typically involves selecting the operating system, installing any necessary software and drivers, and configuring any security settings. You might be given the option of using the automated tools provided by the hash power company, so it's not necessary for you to worry about the details of the process.
Step 4: Upload data and run tasks
Once the instance is set up, you can upload your data and run your apps, ML models, videos, or whatever you choose. This can be done through a command line interface or through a graphical user interface (GUI) provided by the GPU server rental company.
Step 5: Monitor and manage the instance
All sounds pretty simple, doesn't it? But remember also that throughout the rental period, you will need to monitor the GPU instance. This may involve monitoring resource usage, running diagnostics, and troubleshooting any issues that arise. You will also need to manage the instance, which may involve scaling up or down the resources – you want to spend only the amount of money required to perform all the tasks you need.