WPS WPA Tester Premium APK Latest Version is a professional App to hack WiFi networks near you easily. Where the application performs a quick scan of the password and then returns the results to you again. Also, you can enable the WPS feature on the router. In addition to finding the password using PIN and being able to Hack any WiFi Network near you with one click.
Besides that Wps Wpa Tester Premium Apk No Root, it is available for free for all Android versions. Also, the App contains a new set of MOD and amazing features that you will see in the following. In addition to the best way to download Wps Wpa Tester Premium APK Free Latest Version Android 8, 9, 10, 11. Also, we will display to you how to use the application and crack any Internet in seconds.
About Wps Wpa Tester Premium APK
Wps Wpa Tester Premium APK Free is an upgraded and modified version of Wps Wpa Tester. Which is one of the best tools that you can use to get the passwords of Wi-Fi networks near you. Where the app works with several professional and unlimited standards. In order to know the correct password. Besides converting PIN combinations to 11,000 instead of 10. Also Wps Wpa Tester Premium allows you to tell if your WPS is in a locked state (Rooted or Not).
In addition to updating the database and setting the connection settings in your Android phone. As well as you will enjoy more Customization and upgrade options after Wps Wpa Tester Premium Apk Download. Where you can enjoy changing settings and using more new options. Besides the ability to change the protocol of your Wi-Fi networks with a highly efficient set of scanners. Which you will not find in the official application or any other App.
Also, Wps Wpa Tester Premium is completely safe and reliable. As the application does not carry any viruses or malware. In addition to the ability to protect data and download Wps Wpa Tester Premium no root the latest version. Also, there are no complicated options or long-time-consuming software processes. As Wps Wpa Tester is characterized by easly.
Besides a smooth and familiar user interface without any skills. In addition to all the features of no root required and bypass all passwords with discover weak causes and fix them. Despite that, download and install Wps Wpa Tester Premium Free on your phone is 100% free without any permissions. Also, the App is compatible with all medium versions and Android 8, 9, 10, 11. You can see more information below.
How to Use Wps Wpa Tester Premium to Hack Any Wi-Fi Network
Features Of Wps Wpa Tester Premium APK
Patched & Cracked. Wps Wpa Tester Premium is cracked, developed very efficiently with more new options and features. Which you will not be able to use in the official app.
Unlocked Premium. There are many apps that have additional features called the premium segment. But this app is unlocked premium.
WIFI Hack. Enjoy hacking Wi-Fi networks near you easily and in a few seconds. Where the application contains the necessary tools to do this.
Scanner. Also, Wps Wpa Tester Premium contains a variety of scanners. Which plays the most important role while obtaining the password.
Change Wifi Protocol. In the role of the App is not limited to hacking networks only. But you can also use the app to change the network protocol and more security.
No Root. One of the best and most important new improvements. Where you can get the application without any permissions and download Wps Wpa Tester Premium no root easily.
Customization. Also one of the most prominent features and new updates in the application. Where you can use more different customization options.
Full MOD. All the database has been completely updated. In addition to fixing previous bugs, as well as dependencies upgrades and other updates.
Safety. The use of the application does not pose any danger or harm to your phone data. As it does not contain any corrupted files or other malware.
Compatibility. One of the most important advantages of the modified version of the app. Where Wps Wpa Tester Premium is compatible with all versions of Android, old and medium, with ease of download or installation.
Free. Finally, you can download Wps Wpa Tester Premium APK No Root free on your phone without paying any cent while unlocking all other features. As it characterized by small and convenient size.
Download Wps Wpa Tester Premium APK (Unlocked) Latest Version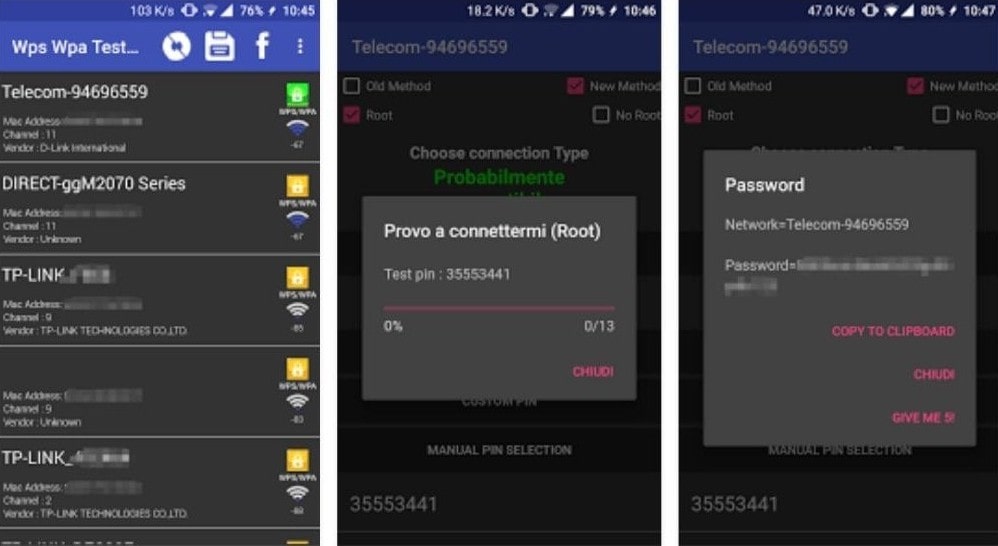 Download Wps Wpa Tester Premium Apk for Android
Wps Wpa Tester Premium Apk v5.0.3.3-GMS Download
Installation Steps
First, you will download the app from the link in front of you.
After that, you have to wait a little time for it to finish.
And now, when the download is finished, open the Settings.
Then you will go to the Security Settings menu on your device.
After that, you will allow the option of Unknown Sources.
In order to avoid any malfunctions during the installation process.
After that open the Downloads file or go to Wps Wpa Tester Premium Location.
And now you can start installing the App normally and easily.
When the installation is complete, you can Open the app and start using it.
You have successfully get Wps Wpa Tester Premium free.
Conclusion
Now you can download Wps Wpa Tester Premium Apk the latest version for free Android 8, 9, 10, 11. Also, enjoy hacking all the WiFi networks near you with the click of a button. Where we showed you above all the important information and details about the application. In addition to showing all the features. Where you can unlock the premium and get the repaired and cracked version easily. Also, you can update the database, change the Wi-Fi protocol, control the WPS lock, PIN numbers, and more other customization options.